Spinning windows
Spin windows facilitate the work in most engineering workshops. A spin window allows the operator to safely observe the operations inside a multi-operation machine. The spin window works by rotating and in doing so pushing aside the cutting fluid, allowing the operator a clear view of the piece being processed inside the machine. Spin windows have their origins in marine applications but in recent decades have come to be used far more widely in the manufacturing industry.
The spin windows can be bonded to any new machine window, whether polycarbonate or glass surface and requires minimal interference with the machine. However, the machine window should be at least 10 mm thick. The spin window helps to avoid the costs associated with the use of large quantities of coolant, without compromising your overview of the machinery room.
Damaskus Maskinskydd markets the following two types of spin windows: Visiport® and Rotoclear®. We stock complete spin windows and spare parts only for Visiport®.
To get full control of the production process of the machine and to guarantee that you can see how the machine is working in real time, you can use a Rotoclear Camera. Read more under the link below.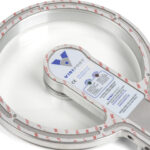 Visiport