Apron covers provide effective and maintenance-free protection that improves safety for both humans and machines.
Apron covers are mainly used in harsher environments, for example in processing machines that generate large quantities of or larger metal chips. Other applications may be as a blind where physical damage occurs, such as in tool changers, automated robot cells and automated warehouse systems. They can also serve as a protection along the X-axis on the rear wall of processing machines.
Apron covers can be mounted separately and hang loose, or mounted on a spring-loaded or motorised roll-up cover
Damaskus Maskinskydd manufactures apron covers with aluminium lamellas linked to each other. We stock a range of apron covers in a range of thicknesses and we adjust the dimensions to your particular needs. The most common thicknesses are listed below with their built-in dimensions, but we also have a thinner version of 3.0 mm. Download our product data sheet below for more technical specifications.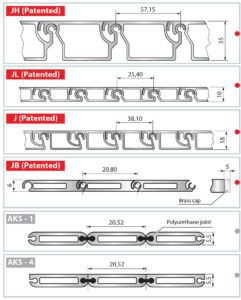 >> Download our product data sheet here (pdf)
Some of our lamella mats also work well as pit covers, used to cover a hole in the floor so that you can walk over it.  Read more under the link below.